About Speaker: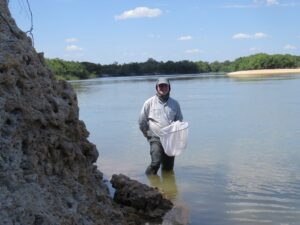 Jeremy Basch lives in Columbus, OH but is originally from Westlake, Cleveland, OH. He started keeping fish over 30 years ago after his father took him to a pet shop. At around 16, Jeremy started working at one of the largest fish stores in the Midwest and was hooked! During his 12 years working at the local fish store, he learned about many fish species and met many lifelong friends.
Jeremy has kept numerous aquarium setups and finally in 2004, set up his first fish room. Currently, he is on his fourth modified fish room design which now contains over 125 aquariums ranging in size from 10gallons to 150 gallons. Over the years, Jeremy has bred various species of fish including cichlids, catfish, rainbowfish, killifish, live-bearers and invertebrates. Jeremy's focus is on the catfish of South America including the families of Auchenipteridae – the Wood Cats, Callichthyidae – Cory Cats and Loricariidae – Plecos, Whiptails and other related species. Jeremy is probably best known for the first documented captive spawning events of the Jaguar Catfish, Liosomadoras oncinus. More recently, he has also raised the first juveniles of Balroglanis schultzi, Duringlanis altae and Tatia gyrina.
A member and former chairman of the Columbus Area Fish Enthusiasts (CAFÉ) in Columbus, OH, Jeremy also belongs to other fish associations including the Greater Cincinnati Aquarium Society, the Ohio Cichlid Association, the Greater Pittsburgh Aquarium Society and the Catfish Study Group. He can regularly be seen attending auctions and conventions throughout the Midwest and beyond. Jeremy has written a few articles in the Buntbarsche Bulletin, his hometown club, the CAFE Menu, Amazonas magazine and provided images for Steven Grant's book on Banjos, Dorads and Woodcats. He was also documented the first successful breeding and captive-raised Liosomadoras oncinus, the Jaguar Catfish, and Balroglanis schultzi. Jeremy has also contributed material to the well-known website,
PlanetCatfish.com.
 He hopes to continue writing for various publications sharing his knowledge with interested aquarists alike.
While many people dream of the beach, Jeremy dreams of collecting fish in South America. He first travelled to South America in 2010. He now travels, when possible, to the captivating country of Colombia, where he has seen both common and rare species in their natural habitat. Jeremy hopes to inspire the next generation to not only keep fish but to also understand the complex and rich ecosystems from which they come from. With the ultimate goal to help with the survival of the fish species, we love so much!